``Hot Mess`` Released on HSTV.com | Ep. 4 - Ft. Lisa Evanson
Hyvee Web Series Executive Produced by Andrew Zimmern | Produced by Griffin Archer Agency | Ep. 4 – Starring Lisa Evanson and Award-Winning Chef Mike Brown
Lisa is a self-proclaimed dumpster fire in the kitchen. Can she learn to make pound cake?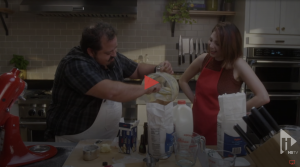 Read full article
``Dearly Departed`` Wins Best Horror Comedy Short at 2021 Fright Night Film Fest + Premieres at 2021 Twin Cities Film Festival
Directed by Carlos Omar De Leon | Written & Produced by Nathan Wold | Starring Lisa Evanson, Rod Kasai, Molly Price, Elora Riley, Reyna Rios, and Nathan Wold.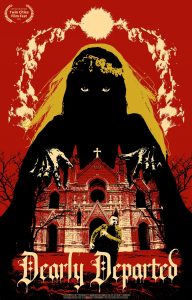 Read full article
2021 48 Hour Film Project
"Leads" cast wins Best Acting Ensemble and more
"Congratulations to team Strong Sevens Productions for their film, "Leads" for winning Best Film Runner-Up, Best Supporting Actor, Best Acting Ensemble (Ernest Howard, Lisa Evanson, Cassie Osuji, Spencer Knott, Ava Lee Rose, Sam Brodsky), and Best Audio. Also nominated for: Best Screenplay, Best Actor, Best Editing."
– The 48 Hour Film Project (2021)
Read full article
Lisa Evanson cheats on stand-up ahead of her showcase in Plymouth
This Friday, Evanson will play host to The Laugh Lineup at the Plymouth Playhouse, alongside an incredible lineup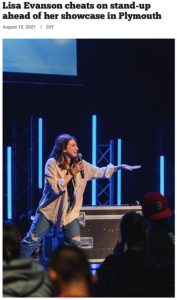 "As for her own comedy career, Evanson has found herself recently spending less time on stage, and more time in front of the camera.
From short films to sketches and even a horror film, Evanson has found herself enjoying a new element of performing – and she feels a little guilty about it.
"Having fallen into a lot of this film stuff, I'm finding that it bring me so much joy," she says. "It feels like a dirty secret I'm letting out. I feel like the momentum of my past three years in stand-up is paying off. I'm being asked to do shows out of state, getting invited to do the State Fair. And I've said no to a lot of it because I have minimal creative outlet time and it's been going towards acting and film work. I sort of feel like I'm cheating on stand-up comedy, but I'm letting the joy navigate me.""
– MNComedy.com (2021)
Read full article
MNcomedy.com
Lisa Evanson Named Minnesota's 2021 "Top 5 Comics to Watch"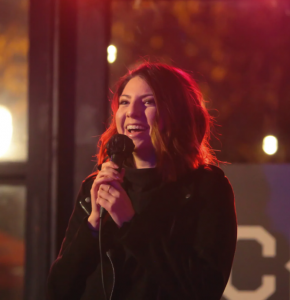 "Her comeback story is indicative of Evanson's spirit, which has played a huge role in her success as a comic… Her personal and relatable material, combined with a subtle snark in her delivery that provides just the right amount of bite, made her stand out at Acme, and soon Evanson found herself being allotted more time each week."
– MNComedy.com (2021)
Read full article
2020 48 Hour Film Project
Lisa Evanson wins Best Actress alongside co-star Cassie Osuji
"A special Congratulations to team Stoney Point Productions for their film, "Serious Business" for winning Audience Choice Award, 2nd Place Best Film, Best Writing, and Best Actress."
– The 48 Hour Film Project (2020)
Read full article
Fox 9 Morning Buzz
Comedian Lisa Evanson chats with the Buzz after being named "Funniest Person in the Twin Cities"
Watch Interview
Star Tribune
Funniest Person in the Twin Cities contest finally crowns a female winner
"Evanson stood out in the finals with a routine about her parents' divorce and a bitter breakup with a boyfriend. It's well-worn territory, but Evanson delivered her sharp observations with contagious enthusiasm and an uncanny ability to sneak in one-liners when others would be catching their breath."
– Neal Justin, Star Tribune
Read full article
City Pages
Lisa Evanson wins Acme's Funniest Person Contest
"Evanson was the clear winner of the evening, managing to be funny, personal, and relatable all in just three minutes."
– City Pages
Read full article
Podcasts
Lisa likes to talk (shocker) and has appeared on the following podcasts. Give 'em a listen!
Garage Logic Podcast

Book Clubbed Podcast

The Backpocket Podcast

It's Hard Podcast

Twin Cities Wellness Collective Podcast

Mill City Comedy Greenroom Podcast